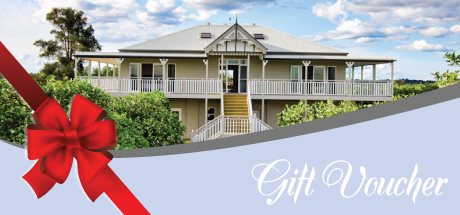 Leisure Gift Certificates
Do you have someone special to spoil? Why not purchase them a tailor made gift certificate for a truly memorable experience at Cornwallis House in the Hawkesbury Valley.
Take the guess work out of your gift giving with one of our gift certificates. Whether it covers a weekend stay in our luxury house or just some little extras to make their stay extra special, it's an easy gift that's always truly appreciated.
Birthdays, Christmas, Weddings, Anniversaries or just say "Thank-you". Treasured holiday memories are a perfect gift for any occasion.
With your knowledge of their particular tastes and interests you can personalise the individual gift certificate from a wide choice of experience options or anything else you believe will delight them and make their visit to the Hawkesbury even more memorable. Our gift certificates can be purchased in any nominate amount you like, and can be redeemed towards the cost of accommodation at Cornwallis House, or used for special added treats during their stay such as:-
Extra night(s)
In house massages and beauty tehrapy pamper treatments
Green fees & cart hire at a local championship golf course
Hot air balloon flights
Flowers and balloons on arrival
Dinner at a local award winning restaurant
In house wine tasting experience from a local winemaker
Hire of a luxury convertible sports car for the weekend
Wine and cheese platters on arrival
In house personal make-up and hair style makeovers
Port and local hand made chocolates for an after dinner treat
As an added bonus, when you
spend over $1000 you will receive a $100 voucher for free
spend over $2000 you will receive a $200 voucher for free
Gift Certificates can either be purchased for a stay on specific dates, or they can be open dated so the recipient can decide when they would like to stay. The vouchers have a life of 12 months, but may possibly be extended if pre-arranged. Both the giver and the receiver's names will appear on the certificate together with what is included and any personal message you'd like to put on it.
To arrange a gift certificate, please phone us on 0423 623 916 or email us at enquiries@cornwallishouse.com.au with details of your request.