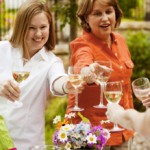 Exclusive and private hire of the house for a small group of around 8 people.
This package is designed for small groups of 8 girls of any age who are looking to get away, have fun, relax, and recharge the batteries, and indulge in some "me" time pampering.
It's for groups who want to keep the cost down by self catering for their meals. .
Weekends start FROM $399 per person for 2 nights for a minimum of 8 people. 
A stay at Cornwallis House is an escape that will provide you with all the requisites you and your friends need for a memorable girls weekend.
Breakfast Provisions
We include full hot & cold breakfast provisions for your first morning.
Relax over a lazy long breakfast that you cook yourself when you feel like it.
Late Check Out
We offer you the opportunity to check out late on your last day (or have a bonus 3rd night and check out early the next morning) at no extra cost (subject to availability at the time). You can enjoy a sleep in, have a lazy lunch and go home at your leisure.
Pamper Treatment
This package includes the cost of a one hour pamper treatment by our team of professional beauty therapists who will come to the house for your convenience.  There may be additional costs involved, depending on the treatment selected.
Separate Beds
We can split our beds so that each person gets one to themselves. (We do not have bunk beds).
Ensuite Bathrooms
Each of our 4 bedrooms has it's own ensuite bathroom, allowing you more space and privacy sharing with one other person. Another feature of the bathrooms enjoyed by our guests is the under floor heating and heated towel rails, keeping you nice and warm throughout winter.
Cook Up a Storm in the Kitchen
The kitchen is fully equipped with every conceivable piece of cookware, dinnerware, tableware and utensil you're ever likely to need. You won't need to bring at thing with you, apart from your food.
At Cornwallis House you also have a range of Leisure Activities to choose from, including;
Pick juicy ripe oranges fresh from the trees (when in season)
Go for a bike ride along the quiet country lanes
Soak your troubles away in the 6 person spa
Be mesmerised by the spectacular sunsets
Expend some energy by challenging the girls to a game of table tennis, cricket or volley ball
Enhancements
Enrich your experience staying at Cornwallis House with some of the following options:
Drift away on a Cloud Nine Hot Air Balloon ride.
Savour the seasonal fruit & vegetables of the district on the Hawkesbury Harvest Farm Gate trail.
Grab a bargain at the Windsor Markets on Sundays.
Appreciate the art and craftsmanship of locals on the Artists and Artisans Trail.
Taste some wines at the local vineyards / wineries.
Go for an exhilarating ride with the boys from Thunder Down Under Harley Davidson Bike rides.
Explore quaint Kurrajong Village where you'll find gift shops, art galleries and lovely cafes and restaurants.

GUEST TESTIMONIALS
"I organised a girls weekend away and this was the perfect house – we could not have asked for more. This house is superbly appointed from the well stocked kitchen to the latest DVD;s and comfy hammocks on the verandah – they have thought of everything…and if you do need help or anything else nothing was too much trouble. A weekend to remember of luxurious relaxation."
Katrina, June 2011
"WOW! I'm in two minds about recommending Cornwallis House because (a) I want to shout from the mountain tops how great it was, but (b) I don't want the secret to get out!
Seven mothers went away for a well earned Girls Weekend Away and we couldn't  have asked for a better break! The fine details that Alannah and Angelo provided are the icing on top! Lovely location, beautiful house, impeccably decorated and stocked. The beauty treatments (the beauticians came to us!!!) were lovely and professional which all just added to this fabulous weekend of good food, reading, DVD's, good friends and the odd glass of wine….!"
Nicki, March 2011