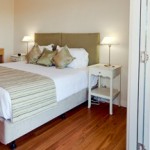 Exclusive and private hire of the house for a small group of around 8 people.
This package is ideal for those who just want to "flop and drop", who are happy to self cater, who don't want to go out anywhere or do anything, just simply relax and enjoy each others' company in a quiet and comfortable environment.
Rates start at $200 per person for a 2 night midweek package based on a minimum of 8 people, or from $270 per person for 2 night Weekend break in standard season. 
Breakfast Provisions
This package includes full hot and cold breakfast provisions on the first morning.
Relax over a lazy long breakfast that you cook yourself when you feel like it.
Late Check Out
We offer you the opportunity to check out late on your last day (or early the next morning) at no extra cost (subject to availability at the time). You can enjoy a sleep in, have a lazy lunch and go home at your leisure.
At Cornwallis House you also have a range of Leisure Activities to choose from, including;
Pick juicy ripe oranges fresh from the trees (when in season)
Go for a bike ride along the quiet country lanes
Soak your troubles away in the 6 person spa
Expend some energy by challenging friends and family to a game of table tennis, cricket or volley ball
Be mesmerised by the spectacular sunsets
Flop into one of the 4 huge hammocks on the verandah
Find a quiet corner to read of book or listen to music
Switch off the mobile, computers & TV and spend some quality time with family and friends the old fashioned way. Perhaps you could play a board game or card game and see how much fun you can have
Challenge your friends to a game of volleyball, badminton or bocce on the lawn
Have a picnic in the orchard
Watch that movie that you've been meaning to see for ages, choosing from our collection of new release DVDs
Enhancements
Enrich your experience staying at Cornwallis House with some of the following options:
Drift away on a Cloud Nine Hot Air Balloon ride.
Savour the seasonal fruit & vegetables of the district on the Hawkesbury Harvest Farm Gate trail.
Grab a bargain at the Windsor Markets on Sundays.
Rediscover the past on the Heritage walk around Windsor.
Appreciate the art and craftsmanship of locals on the Artists and Artisans Trail.
Taste some wines at the local vineyards / wineries.
Go for an exhilarating ride with the boys from Thunder Down Under Harley Davidson Bike rides.
Explore quaint Kurrajong Village where you'll find gift shops, art galleries and lovely cafes and restaurants.

GUEST TESTIMONIALS
"What a wonderful weekend! We went away with a group of friends for a relaxing weekend and got just that. The house and location were perfect, on a quiet part of the river yet minutes to restaurants and shops. Alannah and Angelo make sure that your stay ins enjoyable and all your needs are met. We will definitely be back!"
Stephanie, March 2011
"Cornwallis House and it's owners, Alannah and Angelo, exceeded all expectations. We had such a fantastic weekend away celebrating with friends. Not only was the house gorgeous but its surrounds were beautiful and the house is so well equipped we need not have taken anything to cook up a storm! We had a mixed 'crew' in terms of interests so the fact we could either sit back and do little (other than choose a book or DVD from the vast selection, laze in the spa or on a hammock), get out and be active or visit nearby attractions was great. Simply put, we all dream to own Cornwallis House! Needless to say the next best thing is to plan another stay!"
Clare, May 2011
"Cornwallis House is one of the most beautiful places I have ever stayed at in my entire life and definitely one to remember! This peaceful, tranquil, harmonic property is certainly one of its kind with luscious healthy orange tresss and the beauitful river surrounding a very modern and warm home. The hammocks and jacuzzzi only add to the relaxing factors this place already offers and the owners Angelo & Alannah certainly make you feel welcome. Thank you very much for a wonderful experience, I will be sute to stay again. xx:)"
Carla, June 2011