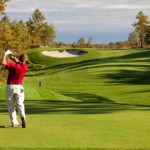 Exclusive and private hire of the house for a small group of around 8 people.
This package is designed for small groups of 8 golfing friends who like to combine a relaxing break away with a round of golf with friends.
Weekends start FROM $330 per person for a 2 night stay based on a minimum of 8 people.  
The price is based on a round of 18 holes of golf at The Richmond Golf Club, but can be amended to any other local Hawkesbury golf course.
The Hawkesbury is well known for it's golf courses and as they are located amongst stunning scenery it is often quite a challenge to keep your eye on the ball.
Whether you are a serious golfer or a happy go lucky 9 holer you will find a golf course in the Hawkesbury to suite your needs. So what are you waiting for? Pack your clubs in the car and head off.
Breakfast Provisions
We include full hot & cold breakfast provisions for your first morning.
Relax over a lazy long breakfast that you cook yourself when you feel like it.
Late Check Out
We offer you the opportunity to check out late on your last day (or stay a bonus 3rd night and check-out early the next morning) at no extra cost (subject to availability at the time). You can enjoy a sleep in, have a lazy lunch and go home at your leisure.
Separate Beds
Each of the king size beds can be split into 2 separate long single beds if necessary, and don't forget that each of our 4 bedrooms has it's own ensuite bathroom.
Golfing in the Hawkesbury
The package includes one round of 18 holes of golf and a motorised golf cart at the The Richmond Golf Club, however you can choose to play at any of the following Hawkesbury courses, however there may be additional charges involved.
Riverside Oaks at Cattai
Windsor Country Golf Club
Lynwood Golf Club at Pitt Town
Grose River Golf Course
Sebel Rum Corps Golf Course at Windsor (9 hole)
For the Non Golfer
We give you the opportunity to change the round of golf for a 30 minute pamper treatment. If 5 or more of your group take this option the pamper professionals will come to you at the house. (upgrade to longer treatments are available for an additional fee).
At Cornwallis House you also have a range of Leisure Activities to choose from, including;
Pick juicy ripe oranges fresh from the trees
Go for a bike ride along the quiet country lanes
Expend some energy by challenging friends and family to a game of table tennis, cricket or volley ball
Soak your troubles away in the 6 person spa
Be mesmerised by the spectacular sunsets
Flop into one of the 4 huge hammocks on the verandah
Find a quiet corner to read of book or listen to music
Watch that movie that you've been meaning to see for ages, choosing from our collection of new release DVDs
Enhancements
Enrich your experience staying at Cornwallis House with some of the following options:
Drift away on a Cloud Nine Hot Air Balloon ride.
Taste some wines at the local vineyards / wineries.
Explore quaint Kurrajong Village where you'll find gift shops, art galleries and lovely cafes and restaurants.
Enjoy a unique meal on board the Clydesdale Horse Drawn Restaurant.
Enjoy a mouth watering 3 course dinner at a local award winning restaurant.
Wine tasting at a local vineyard, or have one of the local vineyards come to the house for an afternoon wine appreciation experience.

GUEST TESTIMONIALS
"What a stunning location and gorgeous house in which to spend a delightful weekend with friends. Cornwallis House exceeded all my expectations. Thank you Angelo and Alannah"
Nick, August 2011